India is a land of diversity and there is a lot to explore in terms of food. As per the states, there are various delicious Indian breakfast dishes to taste and savor. The country's diversity can be felt through its varied cuisines and more than just food, the culture of eating varies between states.
Where North Indian cuisine has a high influence on wheat and rice, South Indian cuisine uses a lot of rice. Recipes in West India are influenced by coconut, peanuts, and lentils while East Indian recipes have more fish and mustard-based preparations. Most Indians prefer to have roti, chawal (rice), or dal (lentil curry) for their meals, but there are various delicacies that you can try for breakfast.
Here's a list of 18 delicious Indian Breakfast Dishes you can make at home: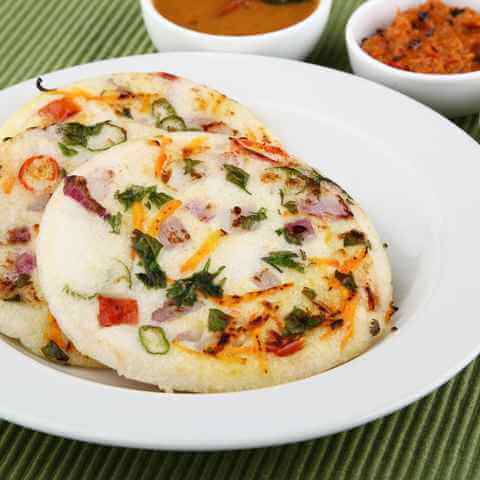 1. Idli
Idli is a steamed savory cake made from a fermented batter. It can be served with chutney, sambar, and other accompaniments. Idli is made from rice batter that's fermented overnight, sometimes for as long as two days, and then steamed in a mold. The result is a soft, fluffy cake whose texture resembles that of an egg-based breakfast food such as quiche or poutine.
In South Indian cuisine, idlis are usually eaten at breakfast with sambar (a vegetable stew), coconut chutney, and vadai (deep-fried savories). They are also served at lunchtime along with different curries such as kootu or rasam.
2. Uppittu
Uppittu – a unique style of breakfast originating from the state of Karnataka, which is now found in different states like Andhra Pradesh and Tamil Nadu. This particular dish has become popular in some of the other southern states as well. The dish originated as a type of breakfast made with fermented rice, hence the name Uppittu. As they say, cuisines are always evolving and Uppittu is no exception! It's nothing but one of the most popular appetizers from Tamil Nadu and a star on any Indian breakfast table. And let me tell you, there is a reason why this tasty dish makes people go crazy for it – its flavor.
3. Pesarattu
Pesarattu is a famous breakfast recipe from Andhra Pradesh. This savory dumpling originated in the early 19th century as an easy way to use up excess rice and lentils that were available. Since then, it has become one of the most popular breakfast recipes in the state. Have you ever tried pesarattu? I am guessing most of you haven't. Pesarattu is a South Indian breakfast recipe that is a batter prepared from pulse and rice making it gluten-free for those who are allergic to gluten. It consists of moong dal as the main ingredient, which is also known as mung beans.
4. Dosa
Dosa is a thin pancake made of rice and lentils. It's a staple food in southern India, where it's often served with chutney or sambar. You can find dosas at restaurants, but they're also easy to make at home. If you're unfamiliar with the recipe, don't worry—it's based on simple ingredients like flour, water, and salt that you probably have in your pantry already.
Dosas are similar to crepes: both are made from batter mixed with water and cooked on a flat surface (like a griddle or frying pan). But unlike crepes, dosas are thicker and contain fermented lentils instead of eggs; this gives them more protein than their French counterpart.
In terms of texture and taste, these savory pancakes can be compared to American pancakes—though if we're being honest here (and if you've ever had an American pancake), then I'm sure you'll agree that dosas are much tastier! With fillings ranging from potato masala over paneer cheese cubes or even dosa burger patties…the possibilities are endless! It is one of the very popular Indian breakfast dishes.
5. Chole Bhatura
Chole Bhatura – Chhole Bhature or Chola is an Indian Breakfast food or brunch item. It is an authentic Mughlai Recipe This divine dish originates from India, which has its roots deeply embedded in the culture of the region. From being introduced to the Indian subcontinent by the Muslim rulers to being a favorite at the royal courts of medieval times, it is one of Delhi NCR's most widely liked street food items. It is one of the most popular Punjabi breakfast dishes of all time. It's a spicy chickpeas and dumplings dish that's savory, and addictive! It is the dish that can satisfy any and every kind of craving…savory or sweet.
6. Adai Avial
Adai Avial is a delicious and popular breakfast dish that originates from the southern part of India. An authentic Adai Avial only contains 3 ingredients: cleaned rice, dhal (lentils), and onions. There has been much debate surrounding the origin of Adai Avial, where it came from, and why it was created but there is no solid evidence to back any of these claims up. Adai Avial (or Adai Avial in Tamil) is one of the most common breakfast items here in South India. It is a mixed vegetable gravy prepared with chana dal, vegetables, and spices.
7. Idiyappam
Idiyappam is a popular breakfast prepared in many south Indian homes. This amazing rice dish has its origin in the state of Kerala where it is mainly prepared for special occasions and festivals. What is Idiyappam? __Idiyappam, an alternative form of rice noodles, is made from fermented rice. These are then steamed to provide a soft and silky texture.
They are usually served with condiments including fish, meat, or vegetables. Is Idiyappam healthy? __Idiyappam has been a part of the South Indian menu for ages because it's healthy for you, especially after the steam processing to remove moisture and make them tender. This process gives them a softer texture and makes them easier to digest than traditional noodles and varieties of rice noodles. This dish can be made in just 20 minutes!
8. Upma
Upma is a popular breakfast dish in south India. It is made with semolina, vegetables, and spices.
This dish is easy to make and can be enjoyed with chutneys or sambar (a south Indian lentil soup). It makes a great breakfast on its own or can also be served as an appetizer at parties.
You can add your favorite vegetable to this recipe, such as carrots, peas, or potatoes. Upma is a healthy dish that contains low calories but high amounts of protein, fiber, potassium, and iron due to the ingredients used in it.
One serving of upma has only 128 calories, which means you get to enjoy delicious food while maintaining your weight! Popular in South and Central India, Upma is one of the most popular Indian breakfast dishes.
9. Vada Pao
Vada Pao is popular street food in India that consists of vada (a deep-fried potato fritter) served between layers of bread, and garnished with chutney. The dish is accompanied by an assortment of condiments such as coconut chutney, tomato chutney, and green chutney.
Vada Pao can be eaten for breakfast or lunch and can be bought from street vendors or food courts at affordable prices. If you are looking to try something new for breakfast on your next trip to India then Vada Pao is the perfect option!
One of the most famous Indian breakfast dishes VADA PAO is a popular pick n go snack in Aamchi Mumbai.
10. Kolhapuri Rassa Poha
Kolhapuri Rassa Poha is a breakfast dish that is very popular in Maharashtra. It is made with rice flakes, potatoes, and spices. The dish is also popular as street food in Kolhapuri cuisine.
The spicy curry that accompanies this dish can be served as an accompaniment or served on the side for you to choose whether to dip your poha or not into it.
11. Puri Sabji
One of the most popular breakfast Indian dishes is the Puri Sabji, though you might be familiar with it as the Paratha. Though it's not difficult to find out what is to be served for this dish — a flatbread stuffed with potatoes and vegetables — one might wonder about what led to the creation of this dish in the first place. Puri Sabji translates to "fried bread with vegetables". The word "puri" refers to the puff as well as flatbread, while "Sabji" means any cooked vegetable. The story behind this breakfast starts in ancient India, where milk was added to flatbreads and cooked vegetables often accompanied it.
Puri sabji, also known as Puchka, is popular breakfast food in India. This delicious snack consists of bite-sized pieces of Puri that are stuffed with spicy potatoes and chickpeas which makes it a high-protein meal. The origins of this dish can be traced back to the erstwhile Mughal era. The dish is not only popular amongst vegetarians but is also relished by meat lovers too. The food comprises soft puffed up toasted bread and a spicy mix of mashed potatoes and chickpea curry which is served on top.
12. Mahim Halwa
Mahim Halwa is one of the most famous sweets from Mumbai. It is a delicious pudding made from milk, sugar, and nuts. Traditionally it was eaten as breakfast in many households. Mahim Halwa is a dessert from the Indian subcontinent associated with a part of Mumbai. Its origins are in the time of the Muslim rulers, who would raid ships for their cargo. They discovered one ship had a load of palm sugar, which was then added to milk and nuts.
13. Aloo Paratha
Aloo Paratha is a traditional Indian breakfast dish, served on the streets of India. This dish consists of layers of dough and mashed potatoes, which are stuffed with spices and herbs. It is usually served with a side of pickle and yogurt or raita to cool down your palate after eating this spicy paratha.
This delicious dish is very popular in North India and is also one of the most popular street foods in that region. A splatter of ghee and a Katori of Dahi is enough with one of the most soul-soothing Indian breakfast dishes: AALO KA PARATHA.
14. Puran Poli
Puran Poli is an Indian breakfast dish that is popular in Maharashtra, Karnataka, and Goa. It is made of a dough of plain flour, chana dal, and sugar. The Puran Poli is then splashed with ghee (clarified butter) and served hot with milk.
A prominent dessert in Maharashtra is also served to the deities on auspicious occasions. This delicious dessert also serves as one of the prominent Indian breakfast dishes. If you wish to make Puran Poli at home, you must refer to this Puran Poli recipe.
15. Poha
Uttapam is a South Indian dish made from rice and lentil batter. Have you ever heard of Uttapam? Well if you haven't, read it here. Uttapam is a popular breakfast dish originating in South India that is largely consumed across all communities. It's not only yummy but it's simple to make as well. It's simple yet exotic and flavorful. I love cooking this for breakfast. Here are the Secrets of making Plumpy Uttapam along with some wonderful recipes that will please you in every way.
16. Undi
Undi is a South Indian dish made by cooking rice with lentils and spices. It is a very popular breakfast in North-Eastern parts of India, especially West Bengal, Assam, and Tea Garden areas of North-East India. The dish was derived from the word "Urad" which means "black" in the Hindi language. This explains why most versions of Undi are black in color. The other name for this cooked rice dish is "semolina Undi" which refers to the use of semolina / Rava (chickpea flour) to prepare Undi.
Undi is a delicious breakfast in South India. It is a rice dumpling and a mouthwatering delicacy that can be served hot with a spicy stew or cold with sweet coconut milk. Most desi, who have traveled to the South of India, have savored this dish, and most have fallen for its taste.
17. Misal Pav
Misal Pav is a popular Maharashtrian breakfast dish that can be found all over the state, but it's especially loved in Mumbai. Are you invited to a Marathi wedding? The chances are that the caterer will serve Misal Pav and probably Kadhi as a breakfast option. If you're confused about the popularity of Misal and Kadhi in Maharashtra, let me tell you that both of these dishes are served at almost every Marathi household as breakfast, especially on the weekends. In this article, I am going to tell you what is Misal Pav and how it originated as breakfast in Maharashtra.
Misaal (or Misal) pav is a dish that originated in the state of Maharashtra. It is also referred to as Misal batata Wada and is often served with chutney, sev, and Katori maav. Composed of various lentil and vegetable preparations, Misal pav revolves around rich and spicy gravy.
18. Uttapam
I know you might have never heard of Uttapam and that's why I have made this article on Uttapam. Did you also know it is one of the most popular breakfast foods in Maharashtra? The word 'uttapam' comes from 2 different words 'Uttam' which means "the best" and 'Pāṅm' which stands for "cooked rice". Uttapams is actually pancake-like dish that is round like a plate and are made with beaten rice or leftover rice, onions, tomatoes, chilies, coconut, etc.
The uttapam is one of the traditional breakfast dishes in my state and is popular all around India. It's usually eaten with a curry or spicy chutney as well as coconut chutney. You can eat it without anything else and love it for its simplicity.
Conclusion
With this, we come to the end of our list of the 17 most delicious and traditional Indian breakfast dishes that you can prepare at home. We hope this article will help you plan a unique breakfast menu for your family and make it more exciting. So what are you waiting for? It's time to start cooking!